The Terminal Restaurant resides at Erzsébet tér, in the heart of downtown Budapest. The building was operating as one of the largest and busiest bus stations in the city for decades back to 1949. The MÁVAUT station designed by István Nyiri is a late modernist legacy which was highly criticised by the strengthening social realist course of its era. István Nyiri designed a simple, well-proportioned building suitable for long-distance transport requirements with a spacious, bright waiting hall.The bus terminal gained a monument classification in the 80's, the only measure which has kept it alive in the last three decades.  
In 2004 reconstructional works started on the building which prepared the place for the Design Terminal, the first design center of Budapest. After a few years of painful curatorial decisions the management relocated its gallery space and handed the hall over to the Terminal Restaurant.
The interiors design was conceived by the 81font architecture  in a tight cooperation with the graphic identity. We were eager to preserve, recall and highlight the original features of the building. This attitude resulted in the emblematic logo, the minimalist copper clock which has served the building from the very beginning. This sign appears on the furnitures as well: the linoleum coatings wear the same clock as a copper marquetry. The iconic Hungarian Ikarus bus is a leading element in the graphic identity as well: the technical drawings of the famous vehicle are part of the menu card. We used a rubber stamp to indicate the subtle changes around the opening period and put a test drive caption ("Próbajárat") on the paper cards.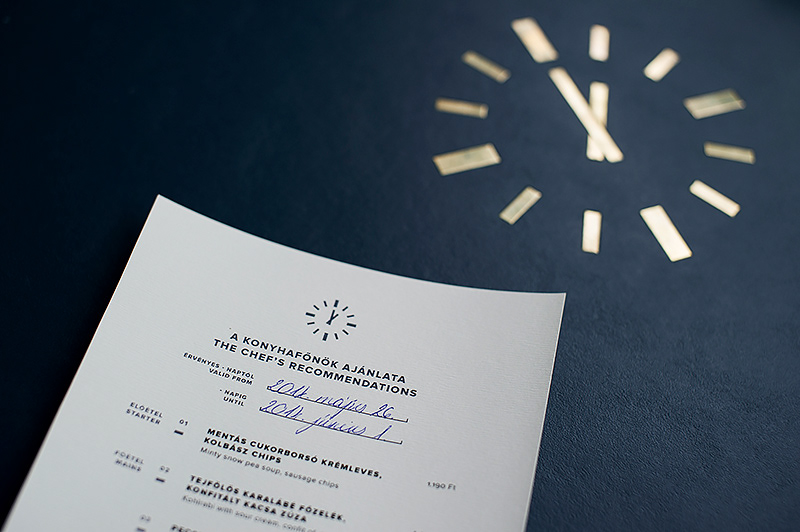 special thanks to Kamilla Mihály